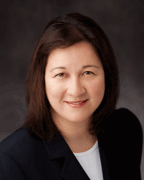 Jennifer Kobayashi is a partner at Wang Kobayashi Austin, LLC and practices in the area of employee benefits and executive compensation.
Jennifer has experience in a broad range of benefits and compensation matters, including qualified retirement plans, executive compensation, and welfare benefit plans. Jennifer frequently advises employers on correcting qualified plan errors, and has prepared numerous submissions under the IRS plan correction program. She also advises employers on plan mergers and plan terminations, including the preparation of related plan amendments, resolutions, IRS filings, and employee communications.
Jennifer handles the employee benefits and executive compensation aspects of a variety of corporate transactions, and advises on issues such as the assumption and integration of employee benefit plans and multiemployer and defined benefit pension plan obligations.
Jennifer has extensive experience with welfare benefit plans, including cafeteria plans, wrap plan documents, and severance plans, and regularly advises on compliance with ERISA, COBRA, and HIPAA requirements, including HIPAA privacy and security. She regularly counsels clients on the benefit claims and appeals process for both welfare and retirement benefits.
Prior to forming Wang Kobayashi Austin, Jennifer was an attorney in the Employee Benefits and Executive Compensation Department of Winston & Strawn LLP.
Jennifer has received an AV Preeminent Rating of 5.0 out of 5.0 from Martindale-Hubbell. She has been selected for inclusion in the Illinois Super Lawyers Listing from 2014 to 2017, was named to the Super Lawyers list of Top 50 Women Lawyers in Illinois in 2016 and was named to the Super Lawyers list of Top 100 Lawyers in Illinois in 2017.
Education:

J.D., University of California at Berkeley School of Law (Boalt), 2001
Senior Articles Editor, Asian Law Journal

B.A., University of Wisconsin-Madison, 1996
Sociology, with distinction

Admitted:

Illinois

Presentations/Articles:

"Keeping the Lid on Pandora's Box: What In House Counsel Need to Know About Attorney Client Privilege," NAMWOLF Annual Meeting, Houston, TX (September 2016)
"Ups, Downs and Exits: Employment and Compensation Issues in the C-Suite," 2015 MIHCA Conference, Chicago, IL (September 2015)
"Department of Labor (DOL) Audit and Enforcement Updates," Illinois CPA Society (December 2013).
"ERISA Benefit Plan Wraps, SPDs and New ACA Mandates," Strafford Live Webinar (October 2013).
"Health Care Reform Update: What is Going On? | Retirement Plans: What You Don't Know Can Hurt You," Renaissance Executive Forum, Chicago, IL (July 2013).
"Key Drafting Considerations for 409A and Deferred Compensation for Executives, Service Providers, and Growth Companies," Chicago Bar Association, Chicago, IL (June 2013).
"Health Care Reform and its Effect on Illinois Employers," DuPage County Bar Association, Lisle, IL (January 2013).
"ERISA Employee Welfare Benefit Plans Wraps and SPDs," Strafford Live Webinar (November 2012).
"The Golden Years: Addressing Disparities in Retirement," Chicago Bar Association, Chicago, IL (November 2011).
"Benefit Law Changes Under the New Administration," Winston & Strawn LLP eLunch Briefings (April 2009).
"Treasury TARP-edoes Executive Compensation Arrangements," with Sherene A. Jodrey, Practical Tax Strategies, February 2009.
"Section 409A Deadline: And This Time the Government Means It," Winston & Strawn LLP eLunch Briefings (September 2008).

Professional Activities:

Boalt Hall Alumni Association, Board of Directors
Chicago Bar Association
CBA Alliance for Women, Executive Committee
Chicago Foundation for Education, Board of Directors
IRS Tax Exempt/Government Entities Council, Great Lakes Area

Prior Affiliations:

American Bar Association, Labor & Employment Law Section
Domestic Violence Legal Clinic, Board of Directors